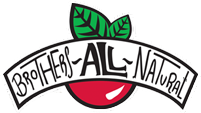 Taken from
Brother All Natural
website:
You have arrived at the right place! Here at
Brothers-All-Natural
, we are committed to providing you and your family with the best quality and nutritious products on the planet! Our freeze-dried food products are sold at top retailers around the world and right here online
Brothers-All-Natural is the brand you can trust to provide delicious, healthy, convenients, and fun snack foods for all to enjoy! Healthy snacking options for toddlers, kids, teens, and adults.
The brothers Matt and Travis Betters, capitalized on the U.S. trend of freeze-dried fruit in cereals and coupled that with consumers' food concerns like portion size, calorie count and desire for healthy choices to create their own line of freeze-dried products that would revolutionize the snack market. Brothers-All-Natural sources fresh fruit from around the world and freeze-dry it into thin and flavorful chip-like "crisps". As for their potato crisp, it took the brothers four years of
experimenting, trial and error to come up with what they believe is the perfect potato chip. The crisps contain no fat, no preservatives, and are very low in calories. Additionally, many consumers are concerned about common food allergens, which is why Crisps are processed at a facility that does not manufacture any products containing nuts, dairy, soy or wheat. This year Brothers-All-Natural also launched their Fruit and Oats breakfast cereal which combines their best selling fruit crisps with whole grain oats
Right From The Heart
When I received my All Natural snacks and ate a bag. After one bag it was hard to not stop, they were very good. The best was the fact that they where good for me. I am always looking for a healthy snack for me to take to work so have something I can just eat though out the day. When I got these in the mail and took one bit I knew they were going to be the healthy snack I had been looking for. When I took some to work all my co-workers tried them and asked me where I got them. I started to tell them about all the wonderful flavors and they all said they had to get some for the house. Most of the workers have kids and thought it would make a great after school snack for them.